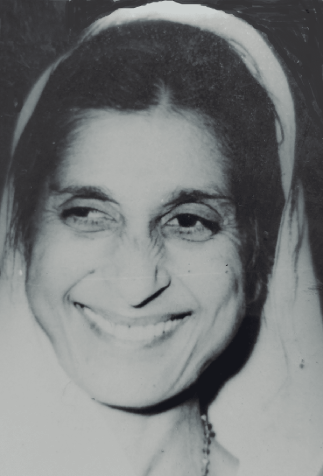 Founder of Pushp Niketan School, Dhampur
(30th September, 1919—20th January, 1985)
A lady far ahead of her times, Smt. Pushpawati Goel was a visionary with keen perception and far-sightedness. She was always very interested in encouraging both girls and boys to pursue education to be able to realise their dreams. Keeping her ideals in mind and taking a huge step forward for the community of Dhampur, Pushp Niketan School was founded in 2005.
Born on 30th September, 1919, she was proficient in Sanskrit and advocated equal opportunity and equal rights to girls and boys. Deeply influenced by the then prevalent norms of the Indian Society, she realized how essential it was for her children to experience a life beyond the affluence of the family. She ensured a boarding school life for them to understand the value of labour and saving and to learn to live in harmony with people of diverse backgrounds and varied interests. With the qualities of immense patience, humility, compassion and affection, she won hearts and devotion wherever she went.
Her entire life was devoted to the well-being and harmony of her family and extended family. She joined her Maker on 20th January, 1985, leaving behind a legacy of a life well lived. All who knew her, remember her with much love and respect.
Mrs. Bindu Goel is a keen educationist who visualized Pushp Niketan School as a child centered progressive learning institution . Her experience with leading educational institutions of the country has contributed the growth of Pushp Niketan. She has passion for the development of society and imparting education to girl students.
Founder of Pushp Niketan School, Dhampur